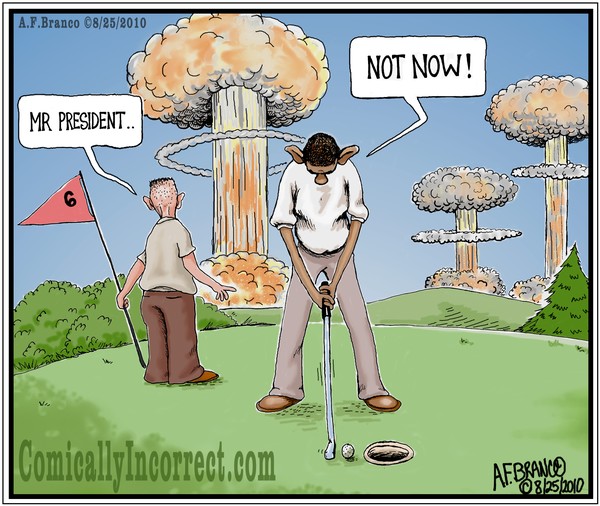 Can anyone explain to me why more than half the people in this country still think Barack Obama is a good president?
* He golfs every time Americans are suffering. Is that his way of suffering with us?
* Obamacare has hurt tens of millions of Americans hard where it hurts, and helped precious few but the bureaucrats and maybe a few insurance agencies.
* The economy hasn't grown more than about 2% even in the best years under his rule -- pretty lousy for a "recovery."
* Which, by the way, began before any of his major policies took effect.
* Iran has gotten away with murder, and now been paid for it -- just to kidnap yet more Americans.
* ISIS metastasized under his watch, persecuting Christians and other religious minorities, destroying world heritage artifacts.
* Hundreds of thousands have died in Syria.
* With Secretary Clinton, he turned Libya into a total disaster area.
* National Debt has increased some $10 TRILLION dollars. (Your share, by the way, is $40,000, just of the Obama increase. Pay up! If you're a family of 4, that's $160,000, please! Feel free to sell your house to pay off the Saudis and Chinese -- if the market is any good in your town. Otherwise, you can begin by selling the shirt off your back.)
* Racial conflict has increased dramatically.
* The murder rate has skyrocketed in major cities, as a direct consequence of Obama and other badmouthing the police. Thousands have died as a consequence.
* New justices who do NOT respect the Constitution or the lives of the unborn are now in office. This is why even Christians are forced to pretend that men can really marry men, and women can really marry women -- or lose their jobs.
* China is now arguably the most powerful country in the world. Iran is now arguably the most powerful country in the Middle East.
* The Russians have done exactly what they wanted to, and are pushing other countries around right and left, treating the US with contempt.
So can someone tell me what amazing accomplishments the Scoffer-in-Chief has achieved, to offset all of this? What has he done that is worth a mortgage on your home, for you, personally?
Can anyone name a modern American president who has been a more complete and consistent disaster?